FOR IMMEDIATE RELEASE
Saskatoon, SK – September 27 – Acclaimed interdisciplinary artist Audra Balion celebrates the completion of her ambitious silent graphic novel Flight Nineteen. Launched at Sask Expo in Regina on September 23rd, this novel is the culmination of a decade-long exploration, showcasing Balion's prowess in ink illustration, acrylic painting, and digital art, intertwined with theatre-informed visual storytelling.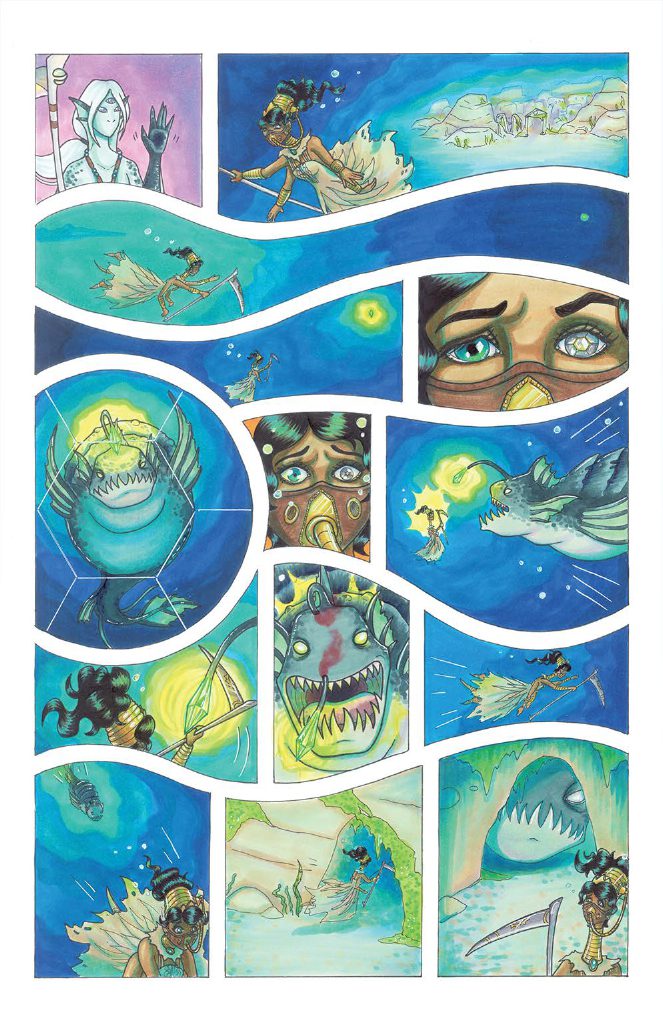 With a BFA from the University of Saskatchewan in studio art, further enriched by theatre design studies, Balion's artistic landscape is vast and layered. Notable collaborations include working with the Saskatoon Opera, being a guest at Sask Expo and Ganbatte Con, and earning the Sequential Magazine award for Favourite Colourist for Flight Nineteen Chapter Five.
Flight Nineteen began from a single etching, organically growing into a silent narrative that explores the juxtaposition of nature and technology amidst a tragic adventure. Through the lens of protagonist Andromache and antagonist Oil, the story dissects noble desires gone awry in the biomechanical revolution, and the essence of courage in confronting oppression.
Fuelled by a grant from Sask Arts for the last two chapters, Balion navigated the storytelling challenges intrinsic to a dialogue-free narrative by devising a visual iconography and semiotics (interpretation of symbols). This assisted readers in navigating temporal shifts and nuanced plot elements. With splash pages done in acrylic and a rich palette of expressions and symbols, "Flight Nineteen" is a visual feast conveying a complex narrative sans words.
A special reception and signing event is set for Friday, October 13th at 6:00 P.M. at Balion's downtown studio in the Drinkle 3 Mall. This event will showcase the exquisite acrylic paintings created for the splash pages of Flight Nineteen, allowing attendees a closer glimpse into the vivid storytelling techniques employed throughout the graphic novel. She will also appear on October 28th from 12-3 at Amazing Stories, a local comic store in Saskatoon that has carried Balion's comics for years and supports many local creators.
With Flight Nineteen now available at audra.balion.ca, this marks a significant milestone in Balion's artistic voyage while opening new chapters of creative exploration. She's already setting sights on a new comic project set in magical animal sanctuary and continuing to create evocative narrative-driven artwork.
About Audra Balion:
Audra Balion is an interdisciplinary artist, engaging in a realm where ink, paint, digital art, and theatre design coalesce. From collaborative projects with authors and theatre groups to solo adventures like Flight Nineteen, Balion's artistry explores whimsical and reflective themes with a focus on visual storytelling.
Press Contact:
Audra Balion
Phone: Available upon request
Email: [email protected]
Website: audra.balion.ca
Images
High resolution images are available upon request.